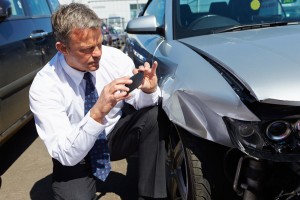 The unfortunate reality is that it's not if you will be in a car accident it's when. Excepting that reality will help you prepare for the inevitable. Below are some general tips. Please don't allow this information to substitute the benefit of seeking out a qualified car accident attorney.
1. Have an auto accident plan
There are nearly 6 million car accidents per year, and the average driver is involved in an accident about once every 17 years. This means that by the time you are in your mid 30's you would have been in at least one, accident and you should expect to be in 3-4 accidents in your lifetime. So, plan ahead, be prepared and know the steps to take when you are in a car accident.
2. Know your insurance
In Washington State, the minimum liability insurance one must carry $25,000/$50,000; it is probably wise to have more. For the purposes of this article I want to focus on the optional coverage, such as Personal Injury Protection (PIP) and Underinsured/Uninsured motorist coverage (UM/UIM). Both these options should be purchased. If someone with minimal insurance hits you, your injuries will likely cost more than the minimal $25,000. It is wise to select these options to protect yourself.
3. Safety is number one
In the unlucky event you are in an accident, please make sure that everyone is alright, if there is any doubt call 911 emergency right away. Hopefully, there is no emergency, and both parties can simply move their cars to a safe spot to investigate and exchange information. It is probably still a good idea to report the accident to the police.
4. Document everything
Take meticulous notes. Too, often people come to see me after an accident only to realize that many details are unclear. It is very hard to remember details during an unexpected scary event. Keep a pen and paper handy in your car.
5. Gather the necessary information
Exchange information, you need the drivers full name, phone number, address, description of the car, the license plate, VIN number, driver's license number their insurance and policy number.
6. Be your detective
Take out your camera or your phone camera. Take detailed pictures of all cars. Take long shots and close shots. Take the surrounding area. More detailed pictures the better and it will elevate arguments later on.
7. Start the claim process
Contact your insurance company and report the car accident. Give your insurance the other person's information
8. Repair your vehicle after a car accident
Contact a reputable body shop. Have a thorough inspection done and obtain an estimate. Remember that you can choose the body shop, and it's the insurances duty to return your car to pre-accident condition and if they cannot it must be considered a total and replaced.
9. File a police report
If the police did not arrive at the accident, you would need to file a collision report with the WSP within in 4 days. (RCW 46.52.030)
10. Treatment
Take care of yourself and get treatment. It may take several days before you start feeling the effects of the accident but still seek treatment. You will be able to utilize your PIP for the treatment. It is probably wise to see your doctor first to determine what he or she would recommend. Keep a note of any work you missed and any personal expenses you lost. I also suggest that you keep a diary of anything involving the accident. Document your specific pain, discomforts and inconveniences.
This was a simple general overview to give you an idea of what to do if and when you are in an accident. Once you take care of yourself, it is highly advisable to contact a personal injury car accident attorney. The sooner you seek the benefit of an attorney the better off you will be, trust me the at-fault parties insurance will likely be contacting right away. You may be giving up certain rights or harming your case if you don't seek the advice of an attorney prior to speaking with a third party car insurance. Most PI attorneys including myself offer free consultations. Please contact us we'd be happy to see if we can help you.